Table of Contents
Looking to access information on the LexFUN! website?
Gain entry with the password "fiveandunder".  
Executive Board Letter
We've finally made it! It's June and the spring showers are slowly turning into those warm summer breezes we've all been craving since mid February. The kids are fighting to get out and play until the last bit of light retreats beyond the horizon, and the faint sound of Mo's Ice Cream truck can be heard at playgrounds all around town. We've made it to summer, and with that this will be our last newsletter before the hustle and bustle of September rolls around.
Last month brought our biggest fundraiser of the year, the LexFUN! Consignment Sale. We had to deal with a new location, new time of our pre-sale and public sale as well as a completely new layout! Our team of moms and dads pulled off the near impossible and we had a very successful sale.
Our last visit at Youville happened in May as well. We know how much the children and the seniors enjoy their time together. Don't fret, the visits will resume in September!
While our intro has an air of closing out the school year and jumping into summer, we have several events in June to be excited about, including our Babysitters Social, the last of our Seminar Series (It's Not Fair: Understanding Sibling Relationships) and the 1st Annual Family Movie Night under the Shake It! tent. In addition, June brings back the concerts in the park, with the first one scheduled for June 24th at the Gazebo in Hastings Park. LexFUN! hosts our Annual Potluck that evening, so look for more information in Bigtent.
As we look back over the course of the past nine months, we cherish the new friendships and connections that our organization has been able to help jumpstart between all of our members. The summer is a wonderful time in Lexington to stay connected with your community, as you get out and explore everything that the town has to offer. From warm days at the Old Res, to Friday evening concerts in the park, we encourage you to remain connected with the people you have met through LexFUN!, and we cannot wait to hear about your experiences in the fall.
With warm regards on behalf of the LexFUN! Executive Board,
~ Lindsay Wedell, Co-President LexFUN!
LexFUN! Executive Board: 
Co-President: Lindsay Wedell
Co-President: Leigh-Ann Durant
Vice President, Membership: Emily Wildfire
Vice President, Community Service: Julie Callahan
Vice President, Advertising/Sponsorship: Sam Carreiro
Treasurer: Valerie Machinist
Secretary: Joyce Dvorak
Guest Column:
Thank you from Cradles to Crayons!
How much impact can one organization have in an afternoon? A lot if it's the LexFUN! Consignment Sale! Your support helps Cradles to Crayons (C2C) provide critically needed items to 300 local children in-need! From strollers, car-seats, toys and books to bath, clothing and bedding, many of the items donated by the sale help C2C address the needs of the infants and toddlers we serve. A social service partner from South End Community Center tells us of the tremendous impact baby items can have: "Razile, 9 months old, was living with her mom. Their home caught on fire and they lost all of their belongings. Razile's mom was distraught and had no idea how she could afford to replace all of the items she relied on and also find new housing. I immediately laced a request with Cradles to Crayons. When I delivered the new clothes, a stroller, and other critical baby items, she was completely overcome with gratitude and had tears in her eyes."
Thousands of families are unable to afford basics baby items they need to care for their young children, which can compromise healthy development. Thank you LexFUN! for helping us address this need, and equip families with the essentials they need to keep their children safe and grow.
To learn more about the Gear Up for Baby program, visit Cradles to Crayons' website at www.cradlestocrayons.org/gearupforbaby
Consignment Sale – Wrap-Up
This year we held our inaugural Consignment Sale at the Lexington High School FieldHouse.  Making the decision to move from St. Brigid's was not an easy one, but one we had to make to support the growth that our sale has enjoyed over the past few years.  Just seven years ago the LexFUN! Consignment Sale, had total proceeds of about $12,000 and it has grown by leaps and bounds ever since. This year 214 consignors sold over 10,000 items.  The top preschool earner once again was Hancock Nursery School with $2,624 in sales.  The top individual seller was Jane Stollenmeyer.
Almost $20,000 will go to support LexFUND, LexFUN!'s Preschool Scholarship and Community Fund.  LexFUND provides preschool scholarships and other financial assistance to young families in need, as well as monetary donations to local organizations that support young families.
 We also received hundreds of donated items, the entire proceeds of which go directly to LexFUND.  We would like to thank all who consigned and donated items directly to LexFUN! for making this Sale so successful.
This year's Sale continued to offer the online bar-coded tagging so that sellers could track their sold items. We also offered the convenience of allowing buyers to pay with credit cards again, which is a big hit – more than half of our total proceeds came from credit cards.
After the close of Sale, all remaining clothing, toys and equipment are donated to local charities. This year, all unsold items were donated to a variety of charities:
Cradles to Crayons supporting homeless and low income children up to age 12.
Safe Harbor Shelter and Angel House Shelter, both of which are for battered women and children, located in Hyannis.
Room to Grow, dedicated to enriching the lives of babies born into poverty throughout their critical first three years of development
South Sudanese Education Fund, serving South Sudanese families in the greater Boston area, located in Arlington.
We would like to thank all of the consignors for working so hard to deliver quality items and following the ever-evolving guidelines.  The majority of sellers also volunteered their time to the Sale! We'd like to thank the more than 180 volunteers who spent many hours helping to tag, organize and reorganize the thousands of items on our selling floor.  Finally, we would like to thank all of those who came out to shop and support LexFUN!'s largest fundraising event of the year.
In particular, we are indebted to the following people for their help throughout the months of planning for the Sale: Patrice Cleaves, Lindsay Wedell, Leigh-Ann Durant, Jill Tierney, Valerie Machinist, Kim Ryan, Jessica Paul, Kim Voce, Maria Klubnichkina, Carrianne Jung, Elizabeth Restivo, Trisha Perona, Kimberly Lowrance, Liz Zevallos, Nancy Carson, Jin Sung, Alix Fox, Becky Barrentine, Sam Carreiro.
We would also like to extend our thanks to all the people who lent us their folding tables which enabled merchandise to be displayed so efficiently at the Sale, and computers so we can run efficient check-out lines…and finally to all the people who let us put up our blue and yellow sale signs in their yards to advertise our sale.
We would also like to thank our friends at Wales Copy for printing many of our sellers' tags, Wilson Farms for their generous donation of food to feed our hungry volunteers, Trader Joe's for the brown bags for our Bargain Bag Sale, the Town of Lexington for allowing us to display our signs on town property, and EMD Serono, Inc. for printing all our sale flyers.
And finally, we would like to thank Laurie Lucibello of the Department of Public Facilities who helped make it possible for LexFUN! to make the move to this new space, which will allow us to continue to grow the sale year to year with the addition of a maternity section next May.  Endless thanks also go to the custodial team at Lexington High School.  And last, but certainly not least, to Julie Callahan for agreeing to provide storage for the coming year.
  Planning has already started for 2015! If you enjoyed the sale and want to be more involved, please let us know. You can contact us at lexfunconsignmentsale@gmail.com.
What a success this year's sale was, thanks to you all!
The 2014 Consignment Sale Team:  Puja TenPas, Jill Tierney, Kim Ryan,          Leigh-Ann Durant, Valerie Machinist, Patrice Cleaves
Community Service
Youville Place Time with Seniors 
Author and journalist Mignon McLaughlin said it best when she said,"Only where children gather is there any real chance of fun." LexFUN! families would probably say the same about the Youville residents! We truly enjoyed our monthly visits with the residents making crafts, reading stories and getting to know one another. We would like to extend a very special thank you to everyone at Youville for hosting us and we look forward to doing it again next year. Have a great summer and we'll see you September 17th!
SAVE THE DATE FOR CLUB SHAKE IT 2014!   A pop-up dance club on Hayden Field, benefiting COMPASS for Kids on Saturday June 14, 2014 – Hayden Lower Field, Lexington.
Arrive in style to Club Shake It: I love the 80s and get home safely! R&M Corporate Transportation is once again donating car service so 100% of proceeds will go straight to COMPASS for homeless families. Details:
Bookings to be made directly with R&M by calling 978-670-1700; $20/person for a one way transfer, $35/person round trip.  Maximum of 10 passengers per reservation at one location; Request a 10 minute window for pick-ups. Reservations need to be made by 3PM Friday June 13, 2014. Payment made at or before the event. Gratuity not included but would be appreciated.
Club Shake It is a pop-up dance club on Hayden Lower Field – Lexington, benefiting COMPASS for kids' COMPASS for homeless families* program Saturday, June 14, 2014. Purchase tickets and tables at www.clubshakeit.org.
For more information or to get involved please contact Sarah Humphreys, COMPASS for kids, friendmaker,  sarahhumphreys@compassforkids.org, 781-862-4446 *There are now close to 300 homeless families living in Lexington, Bedford and Waltham motels.
---
If you can't attend Club Shake It or don't want to wait in line at the event to bid, then bid or buy items BEFORE Club Shake It on 
June 14
!
-Many items are available to purchase via "Buy It Now" – so no bidding, no waiting to see if you won!
-Some items will finish bidding at the event (as indicated)
-Some items will only be offered at Club Shake It!
---
NEW IN 2014 – Shake It Family Movie Night – Friday June 13! 
6-7pm
: Doors open, Cradles to Crayons truck open for donations
7-7:10
: Jodi and partners invited to speak
7:10-8:30
: movie shown (Ice Age, 81 min, PG)
---
Meals on Wheels: Get Out and About!
It is a great time to get out and help the seniors in our community. Please consider delivering Meals on Wheels. You can do the deliveries with (or without!) your children, and you may sign up for as little as one delivery at a time, which means you can participate when your schedule allows. Many of our drivers find this a rewarding activity for themselves and their children. The seniors really look forward to the weekly interaction. To sign up or find out more about delivering meals, please email Anne Boulter at anne@boulter.com.
Kindergarten Korner
Is your child going to Kindergarten this fall?
Preparations are underway!
If you have a rising Kindergartener, don't miss all the great programming available to help you get ready for the fall! Whether you attended the Town-Wide Kindergarten Orientation in March or not, there are many more opportunities to learn all about Kindergarten. Read on for Kindergarten Connection details and an event you won't want to miss – mark you calendar, and double check our helpful to do list below!
Fall 2014 Kindergarten To-Do List:
•     If you have not yet received your Kindergarten registration packet, please call your elementary school directly
•   Fill out your registration forms and bring them to your Kindergarten Screening appointment
•       Schedule your child's Kindergarten screening
The Buzz
Baby Sitter Social,  Mon Jun 9, 2014, 6:30  – 8 pm, Cary Library – Large Meeting Room
Join us on Monday, June 9th for our next Baby Sitter Social.  No this is not a "social" event, but attending may help improve your social life overall.  Come and meet potential sitters.
LexFUN! Potluck at the Bicentennial Band Summer Concert Series, Tue, June 24th 6pm, Gazebo at Hastings Park
Join us to kick off the summer with food, friends and fun. Come and enjoy one of the favorite LexFUN! activities of the summer – a pot luck dinner at a local outdoor concert (concert begins at 7:15 pm).
Food assignments are as follows. Check back to sign up in Big Tent
A-I Desserts
J-R Salads
S-Z Main Dishes
Paper products will be provided. Please bring your own beverage and blanket. LexFUN!'s potluck will be over at 8 PM, so please plan on retrieving any serving plates for food by then at our tables! If the weather looks questionable, please call 
(781) 862-0500 x707
 for a cancellation. 
We hope to see you there!
- LexFUN! Social Committee
Book Groups
Would you like to participate in a LexFUN! book group? LexFUN! book groups are a great way to connect with other parents of preschoolers. Once you are a LexFUN! member, you are welcome to join our book groups (and there is no charge for joining them). Book clubs meet at book club members' houses and/or local restaurants at mutually determined times. You certainly don't have to be a reading buff to join!
As you consider joining a LexFUN! book group, please think about your preferences in the following areas:
• Day of the week and time of day/night for regular meetings • Possible book suggestions or theme for a specific genre you might be interested in • Location (meet at each other's houses or try out a new restaurant)
Please look for the book group subgroup on Big Tent to get connected. Alternatively, you can email Jessica Paul, Book Groups Chair at jessicabpaul@gmail.com.
Subgroups / Interest Groups Like running but need some motivation to get out there? Want to find another LexFUN! Member to go biking with? How about a "Last Minute" play date? LexFUN! Subgroups are for you. Join a sub-group to connect with others who share your specific interest(s). Current subgroups include running moms, cycling moms, outdoor playgroup, foreign language playgroups (French and Spanish), LexFUN Dads and "last minute" play dates. If you are interested in joining an existing group, please visit the Big Tent Home Page www.bigtent.com, click on the subgroups tab and join one! Group leaders are still needed for most of the subgroups, so please email Jessica if you would like to take the lead in organizing outings and helping to moderate a group's activity.
OR start your own group! Don't see a group here that your were hoping to see? Contact Jessica Paul to get the ball rolling or with any questions: jessicabpaul@gmail.com or (617) 417-9137.
Lexington Pediatrics, P.C. is a group pediatric practice. Our mission is to provide quality, compassionate, thorough, up-to-date pediatric care for all of our families regardless of age, sex, race, medical complexity, or method of payment. We are affiliated with Children's Hospital Boston and with Harvard Medical School. Our physicians are actively involved in teaching residents and medical students. We are also active in the community, serving as medical consultants for area schools, day care centers, and area children's groups. The Lexington Pediatrics staff is made up of MDs as well as pediatric nurse practitioners. Our RN nursing staff handles most clinical phone calls through our nurse triage phone line, runs the flu clinics, and helps in assessing children who are being seen for sick visits. Lexington Pediatrics is the oldest pediatric practice in the area. Founded in 1971, we have worked hard for 40 years to create and maintain a medical 'home' for our pediatric patients from birth through their early 20's. For more information, please call 781.862.4110 or visit our website at www.lexpeds.com.
A big thanks you to all of our members from 2013-2014. This year we had over 500 members of LexFUN! Thank you for joining us in over 100 LexFUN! sponsored activities and for your generous donations of time and gifts to our many community service activities this year. Our members help make LexFUN! such an exciting and worthwhile organization and we are so happy to have you all a part of our group! We hope you enjoyed your year and that you will join us again for another year of LexFUN!
Your 2013-2014 membership runs until September 2014. If you would like to re-join LexFUN! for 2014-2015 you will need to renew your membership after June 1st, 2014 and before September 30, 2014. Renewal invitations will come directly from Big Tent to your email. Please watch your email over the coming months for reminders and links on how to renew your membership through Big Tent.
Here are a few details about membership for 2014-2015:
As per above, all renewals will be done through Big Tent. Be on the look out in your email over the summer for a reminder email and link to renew
Dues for membership year are $30.
Look for a save the date for our annual Open House event hosted in September. Come and pick up your swag bag and membership materials, socialize with LexFUN! friends, and enjoy free entertainment, children's crafts, and snacks.
Please remember to continue to use your current membership discount card over the summer. Your card is valid through September. For a full list of participating businesses, see the membership partners tab above or visit www.lexfun.org.
If you have any questions about membership benefits or renewals please email Emily Wildfire, VP of Membership at ewildfire@hotmail.com.
Don't forget to Renew or sign up for LexFUN! On Big Tent this summer and we'll see you in September at the open house when you pick up your swag bag, membership card and annual guidebook!
Each month we highlight some of our sponsors.
Wagon Wheel Farmstand and Nursery, 927 Waltham St.
Now that we are finally able enjoy the outdoors, it is time to start thinking about your yard and garden. Stop in to the Wagon Wheel for all your lawn and garden needs including Annuals, Perennials, Sod & Grass Seed, Bark Mulch & Loam, Potting and Top Soil, Fertilizers, Bird Seed & Statuaries. While you are here pick up some veggies at the farmstand or some fresh fish (delivered daily!) LexFUN! members save 15% off total sale (excluding landscaping services). www.wagonwheelfarmstand.com
Cycle Loft, 28 Cambridge St. Burlington.  With spring finally here, check out Cycle Loft in Burlington for all your bicycle needs. They have everything including bike accessories, clothing, shoes, and even car racks. Use your LexFUN! Discount card and receive 10% off helmets and 5% off bikes for kids.  cycleloft.com
With Many Thanks To…
Board Members, Take a Bow
Many thanks to…
Puja TenPas for her strong leadership, dedication and TONS of hard work in transforming the High School Field House into one of the Best Children's Consignment Sales in the region and raising thousands, thousands and thousands of dollars for our LexFUND! scholarship (and thanks to Puja's family for sharing her with us).
Jill Tierney who helped lead the Consignment Sale Team, even though she gave birth to Baby Matilda just a few weeks before the Sale (and thanks to her expanded family for sharing her with us too!).
Valerie Machinist who shared all her experience and wisdom with the Sale Team to help them transition to the Field House.
Kim Ryan who really stepped up and took on more than she bargained for to help us execute a tremendous Sale.
Lindsay and Rick Wedell for coming up with the fabulous idea of building our own clothing racks AND for hosting a rack building party to actually build all of them (didn't the selling floor look like a real department store!).
LexFUN! Dads Brian Machinist, Jim Durant, Dan TenPas, Tommy Reilly and Rick Wedell for helping to build all the clothing racks.
Patrice Cleaves for her unwavering support, leadership and cheerleading all during the Sale (while juggling her daughter Ava's dance recital which happened to be at 

3:00 pm

 on Sale day).
Wendy Bertsekas for helping us get all the remaining clothes and toys from the Sale to Cradles to Crayons (over 300 needy children were served with leftovers from the Sale!!).
Becky Barrentine (former Sale Co-Chair) for coming out of LexFUN! retirement to help us with the Sale.
Laurie Lucibello of the  Department of Public Facilities who helped make it possible for LexFUN! to make the move to this new space, which will allow us to continue to grow the Sale year to year with the addition of a maternity section next May.
Pete Durant (Leigh-Ann's Dad) who flew up from Florida to set up and run all the computer and scanning check out stations for the Sale.
Joyce Dvorak who was, once again, the top cashier/scanner at the Sale.
Leigh-Ann Durant for her constant support and undying love of everything Consignment Sale.
Our top customer, an unnamed Dad from Cambridge expecting twins who spent $616 to outfit his little bambinos and thought he got the best deals in the world.
Hancock Nursery School for once again being the top seller at the Sale.
All the members of the Consignment Sale Team, the Board Members and LexFUN! alums who put in countless hours, who flew in parents to watch their children for Sale weekend, who gave up time with their spouses, partners and family to work on the Sale. Many, many men and women on the LexFUN! Board and beyond helped us bring it all together to provide a Sale that was better than it has ever been! We thank you ALL for your dedication to not only LexFUN!, but the community at large.
~ Best, Lindsay & Leigh-Ann LexFUN! Co-Presidents
Newsletter brought to you by LexFUN!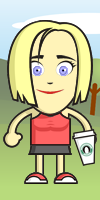 Joyce D. Editor ~ Have a wonderful summer!